MegaResearch agency announced the prospects for the development of the packaging equipment market at the Upakovka-2020 exhibition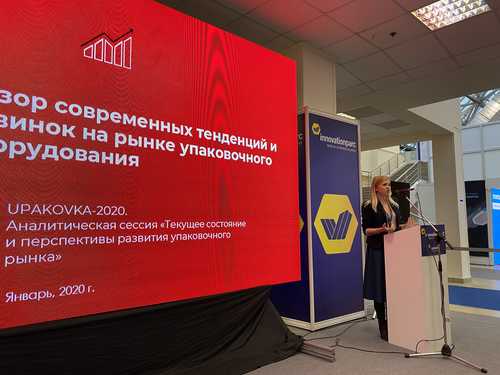 07.02.2020
MegaResearch agency announced the prospects for the development of the packaging equipment market at the Upakovka-2020 exhibition
The analytical session "Current state and development prospects of the packaging market" was held on January 31 at the Upakovka-2020 exhibition. Maria Leontieva, head of the Analytics Department of our company, spoke about current trends in packaging and gave a forecast for the packaging equipment sales sector.
The first thing you need to pay attention to is what trends in the packaging itself affect the equipment market. Weight reduction and the desire to reduce the cost of packaging, the growing demand for "smart" packaging, the popularity of borderless packaging, as well as the fashion for a healthy lifestyle and environmental friendliness – these are the key trends today. Engineers and equipment manufacturers must take this into account, and today leading companies, both foreign and Russian, are already implementing these requirements in their latest models.
The result was the production of equipment with a high degree of automation, which allows you to quickly change the format and adapt to a new type of packaging. Compliance with food safety standards, the trend to increase the shelf life of products, the possibility of remote maintenance and the gradual introduction of "Industry 4.0" standards - this also needs to be taken into account by technology developers.
According to MegaResearch analysts, in the near term until 2025, the market of packaging equipment in Russia will grow by an average of 3.5% per year, the growth drivers will be the product segment, followed by pharmaceuticals and cosmetics.
It is worth adding a few words about the secondary market of equipment. Maria Leontieva believes that this segment will still retain its attractiveness, as there are no grounds for the growth of real incomes of our citizens. And these indicators, as you know, are interrelated.