MegaResearch analysts performed at the International Chemical Forum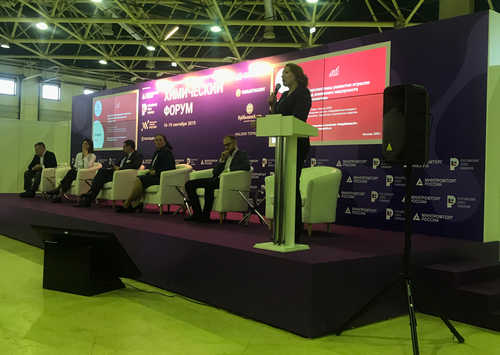 24.09.2019
MegaResearch analysts performed at the International Chemical Forum
In September 2019, the Expocenter hosted the 22nd International Exhibition "Chemistry-2019", the key event of which was the VII Moscow International Chemical Forum, which is the largest discussion platform for specialists of the chemical and petrochemical industry in Russia.
Within the framework of the plenary session "Waste processing and recycling. Ecology and technology of the industry" our leading expert-analyst Polina Medvedeva made a report "Prospects for the development of the industry under the influence of the national project "Ecology". The topic of environmental protection in the organization of industrial production is now particularly relevant, but the process of installation and modernization of treatment facilities is going with some difficulties, since the requirements of environmentalists are often overstated and only large businesses can fully meet them.
Our report covered the following topics:
What are the reasons for the decline in the growth rate of the chemical industry
What hinders the development of the chemical industry in Russia.
Which companies have already started implementing the national project "Ecology".
How the national project "Ecology" will affect the development of enterprises in the industry.
What is more profitable — to pay fines or reconstruct production.
What processes are generated by the tightening of environmental requirements.
In the course of the study, based on the materials of which the presentation was prepared, our analysts interviewed representatives of large companies in the chemical industry (with revenue of 1 billion rubles per year). Their opinions and assessments allowed us to check and update the results of the desk analysis, which we shared with the forum participants.
The report aroused great interest, and as a result, a discussion began about the degree of rigidity and adequacy of the current rules of state regulation in the field of ecology, as well as about the measures that market participants propose to improve them. The topic turned out to be so interesting that all the questions did not even have enough time allotted by the regulations.
Marketing research of complex industrial markets is one of the areas of specialization of our agency. We invite to cooperation the enterprises of the mining and manufacturing industry interested in analytical justification of prospects of an exit to new domestic markets, implementation of investment projects, expansion of production volumes at the expense of export deliveries and other options of business development. We know how to get the objective and reliable information you need right now.