MegaResearch presented a report on the pizza cheese market at the Ingredients Russia exhibition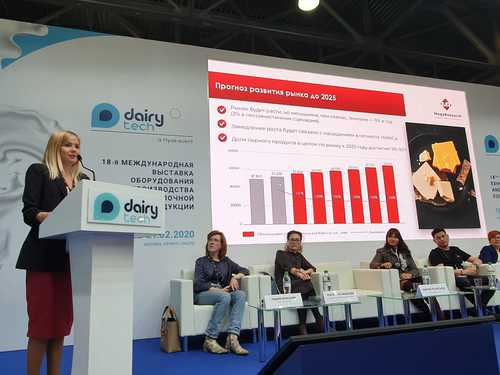 28.02.2020
MegaResearch presented a report on the pizza cheese market at the Ingredients Russia exhibition
On February 20, 2020, at a discussion held within the framework of the International Conference Ingredients Russia, Maria Leontieva, head of the analytics department of the MegaResearch marketing agency, made a report on the analysis of the Russian market of pizza cheese in the HoReCa segment.
In the period 2016-2019, the market for pizza cheese grew rapidly, its volume increased by 14% annually. This is not surprising: cheese is the main ingredient of pizza filling, the consumption of which is constantly growing. In the first part of the report, Maria spoke about the structure of this market and gave some interesting facts:
the average monthly consumption of cheese in a pizzeria is 1.5 times more than that of an Italian restaurant, and more than 2.5 times higher than that of a cafe offering pizza as one of the dishes on the menu;
more than 80% of the cheese used for making pizza is a cheese product. In the face of fierce competition, pizza manufacturers are trying to reduce costs in all possible ways. According to experts, the use of products with milk fat substitutes can reduce the cost of the final product by a third;
82% of the total consumption of pizza cheese is mozzarella. The rest of the cheeses are more designed to be a taste addition and form an assortment of individual types of pizza;
Almost 90% of HoReCa's businesses purchase pizza cheese from distributors. Only the largest pizzerias or local companies that have established cooperation with local factories work directly with manufacturers.
These data were obtained by our agency's analysts during a survey of 300 companies in the range of which pizza is positioned as one of the main products. In conclusion, Maria Leontieva shared the forecast of market development, which was compiled based on the results of expert interviews and analysis of the main trends in the consumption of cheese for pizza. Experts assume that the market growth will continue, although at a lower rate. The slowdown in growth in the medium term will be mainly due to the saturation of the HoReCa segment.