Feedbacks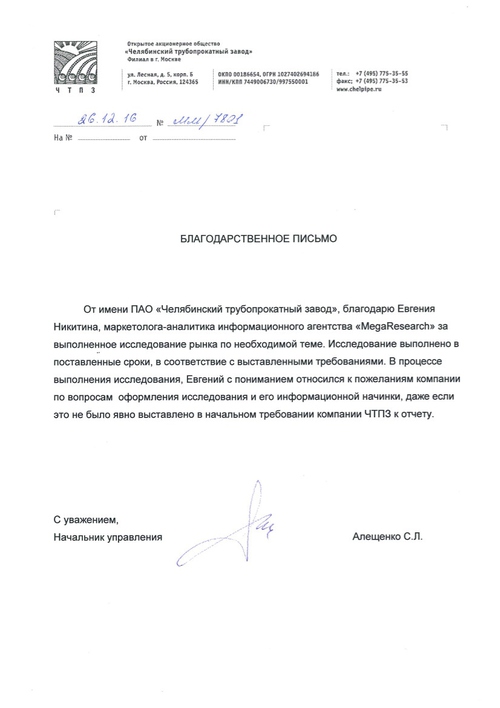 ПАО «Челябинский трубопрокатный завод» (ПАО «ЧТПЗ»)
От имени ПАО «Челябинский трубопрокатный завод», благодарю маркетолога-аналитика информационного агентства «MegaResearch» за выполненное исследование рынка по необходимой теме. Исследование выполнено в поставленные сроки, в соответствие с выставленными требованиями. В процессе выполнения исследования аналитик с пониманием относился к пожеланиям компании по вопросам оформления исследования и его информационной начинки, даже если это не было явно выставлено в начальном требовании компании ЧТПЗ к отчету.
Алещенко Сергей Леонидович, Руководитель управления маркетинга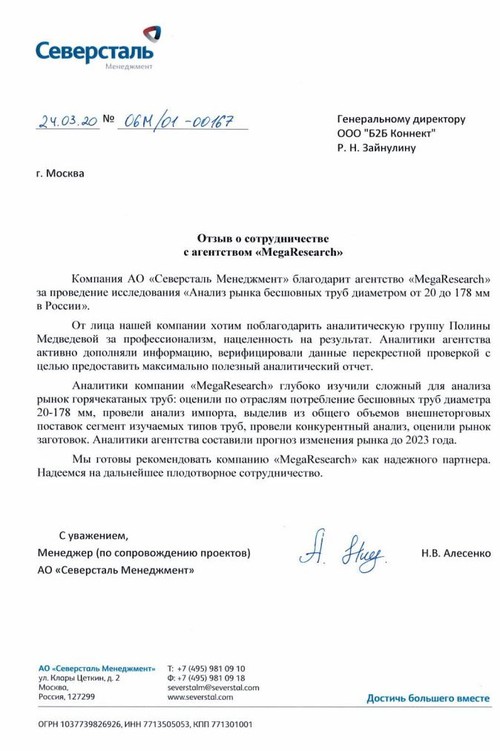 Severstal Management JSC
Feedback on cooperation with the «MegaResearch» agency
Severstal Management JSC thanks MegaResearch agency for conducting the research «Analysis of the market of seamless pipes with a diameter of 20 to 178 mm in Russia».
On behalf of our company, we would like to thank the analytical team of Polina Medvedeva for their professionalism and focus on results. The agency's analysts actively supplemented the information and verified the data by cross-checking in order to provide the most useful analytical report. Analysts of the company "MegaResearch" deeply studied complex to analyze the market for hot-rolled pipes: assessed by industry consumption of seamless pipes of diameter 20-178 mm, analyzed import highlighting from the total volumes of foreign trade segment of the studied types of pipes, conducted competitive analysis, assessed the market blanks. The agency's analysts have made a forecast of market changes until 2023.
We are ready to recommend MegaResearch as a reliable partner.
We hope for further close cooperation.
.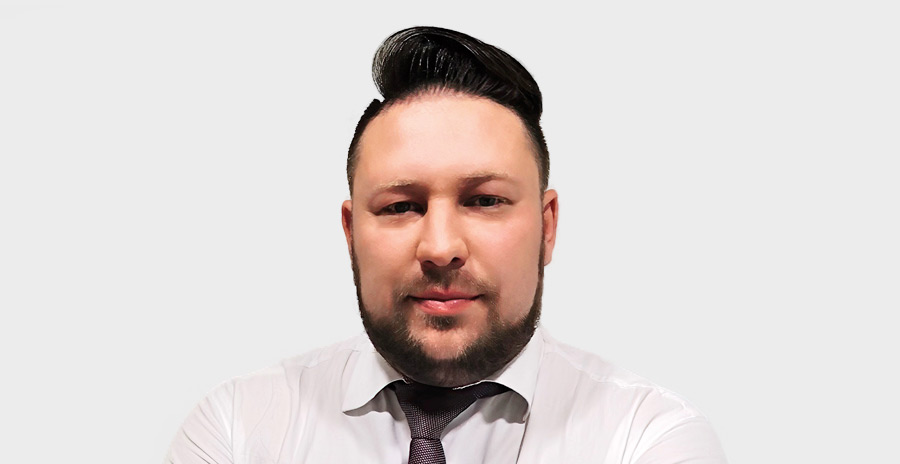 Dmitry Abakumov
Project Manager
Dmitry specializes in marketing research projects, business plans and strategic consulting.