Feedbacks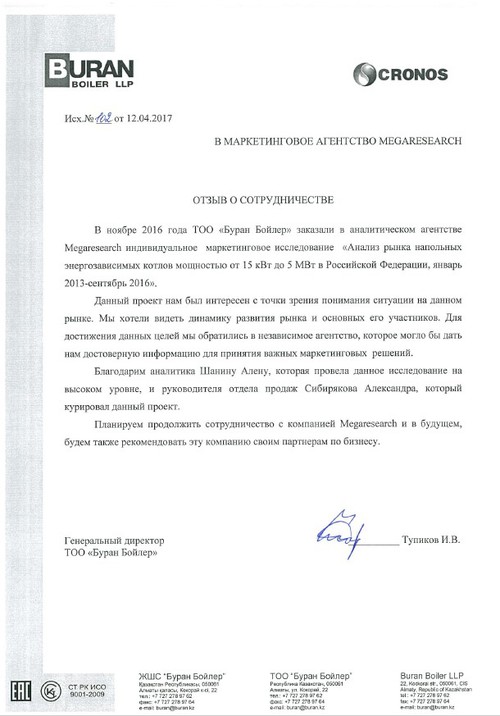 Buran Boiler LLP
FEEDBACK ON COOPERATION
In November 2016, Buran Boiler LLP ordered an individual marketing study from the analytical agency Megaresearch «Analysis of the market for floor-mounted energy-dependent boilers with a capacity of 15 kW to 5 MW in the Russian Federation, January 2013-September 2016».
This project was interesting to us from the point of view of understanding the situation in this market. We wanted to see the dynamics of the market and its main participants. To achieve these goals, we turned to an independent agency that could give us reliable information to make important marketing decisions.
We thank analyst Shanina Alyona, who conducted this research at a high level, and Head of Sales Department Alexander Sibiryakov, who supervised this project.
We plan to continue our cooperation with Megaresearch in the future, and we will also recommend this company to our business partners.
.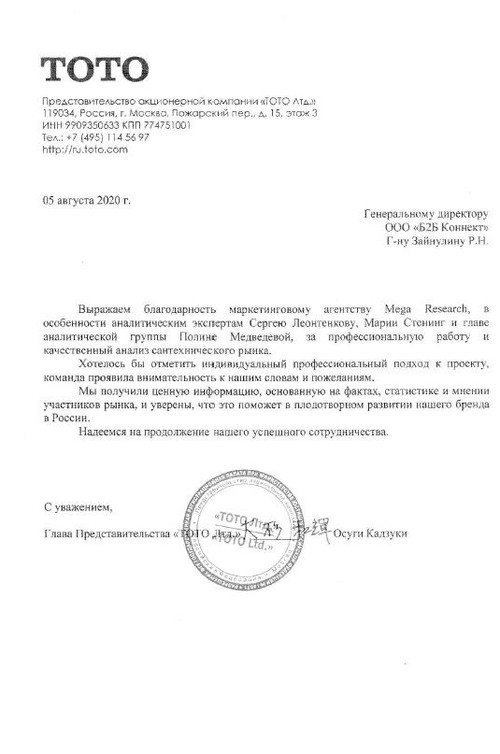 TOTO LTD
We express our gratitude to the marketing agency MegaResearch, especially to the analytical experts Sergey Leontenkov, Maria Stening and the head of the analytical group Polina Medvedeva, for their professional work and high-quality analysis of the plumbing market.
I would like to note the individual professional approach to the project, the team was attentive to our words and wishes. We have received valuable information based on facts, statistics and opinions of market participants, and we are confident that this will help in the development of our brand in Russia.
We look forward to continuing our successful cooperation.
.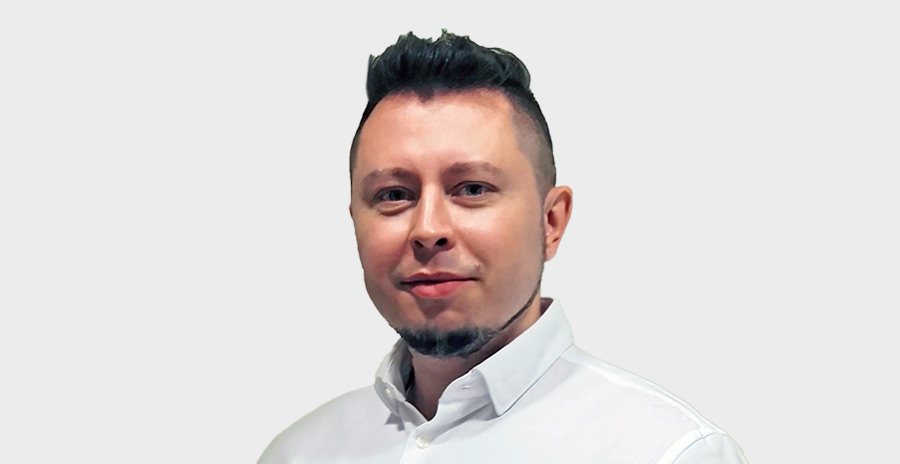 Dmitry Palkin
Lead Project Manager
Dmitry specializes in marketing research projects, business plans and strategic consulting.